So I chose to make a movie trailer.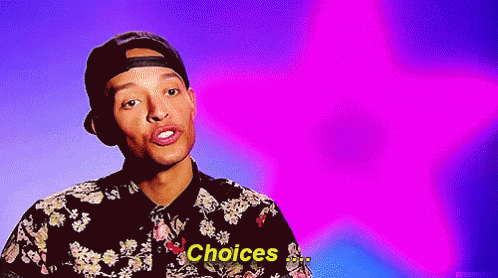 Initially, I thought, "piece of cake," because of that project before where we had to make a YouTube video from start to finish and deal with copyright claims if they should arise. And then it's Patchwork Girl. It's a relatively obscure piece of literature over twenty years old with no linear story, so no beginning, no end… (Plot? We don't know her.) … and every time you go through the story it's different.
I thought I had it all figured out… 45 seconds to a minute worth of content set to "Death on Two Legs" by Queen, whatever, boom, boom, boom…a pretty decent trailer. It started off with something insufferable, that Clip from the 1931 Frankenstein "It's Alive™️" and that floating head from the intro of the Patchwork Girl of Oz movie (truly terrifying). It was set to the crescendo build from an instrumental version of "Death on Two Legs" then  moves to the cinematic elements: "Eastgate Presents…" yada-yada. I had timed the title page to appear right at the downbeat of the piano (very sexy) and the rest of it was just a video clip of someone showing the mechanics of how the software worked to navigate the story. I thought I was Spielberg. I was very proud of myself.
Anyway, I was wrong.
I showed to my mom, who in so many words, told me she hated it. But really it was that she couldn't get a good grasp as to what the story was about. And taking a step back…she was right.
So now I'm revamping the whole thing. Like, I'm trimming clips, finding new music, making hyper-specific Google searches and turning up empty-handed, using obscure media, scouring the depths of YouTube for symbolism, and then I've finally got it: the original Frankenstein clip, the floating head, a clip from the 2004 movie adaptation of Andrew Lloyd Weber's Phantom of the Opera, a picture of Mary Shelley, a video of Shelley Jackson, and a montage of clips I spliced and edited together from a two minute trailer of the Mary Shelley movie that came out last year.
The editing process was grueling: the clips I used were, at normal speed, between four and twenty seconds, so I'm having to speed up and slow down certain clips, while avoiding it being too fast or too slow. Then there's the issue with the text: I had already found pivotal quotes, general enough to make a linear story out of a non-linear one, geez, but the text. I never could really time it right so that the text appeared at a normal speed; I had looked at it enough that I could read a line in less than a second (one of my shortest clips was around 0.7 seconds) but that was one sacrifice I made for the sake of the aesthetic®️.
Then there was the question of the music. 
"Death on Two Legs" was clearly not the right choice for the video, and I'm frantic. I'm on Spotify trying to figure out what music would fit the gravity of the trailer. It's kind of serious now, and although "Death on Two Legs" is operatic masterpiece, it was just too jarring and didn't match cinematically with the new clips I'd picked out. My first direction was moving to video game soundtracks, because the intent is to make you focus on the gameplay, and my main choice was Mass Effect 3: I loved the game, loved the soundtrack, what could go wrong? And I was listening and it didn't fit–I'm at my wit's end. What music am I going to use for this trailer?
Then I'm thinking, "Okay! Why not use the soundtrack from the Mary Shelley movie?" I'm a genius.
 So I listen to every one, and every song sounded like some spectral Celtic woman with red hair sighing woefully in a mist-filled forest (perfect) and they all fit. So I just had to pick one. I believe the song was called "Mary's Decision" so I put it in iMovie, trimmed the song and added a fade. It's gorgeous. I've done it. Queue video.
After the whole fiasco with the first YouTube video I made receiving a worldwide copyright claim from Viacom within seconds of it being uploaded, I was still worried about copyright claims when I uploaded this one to YouTube (thankfully, I never got a strike/claim, although I think I used copyrighted material)
Then I made the poster. Pretty easy, I had a solid image in my head of what I wanted it to be: a woman with a skull over her face. Color scheme: black, white, and red.
I made some edits in PowerPoint of all places, downloaded some new fonts (for the poster and the video), and I'm satisfied with it. It's minimalistic but I think pulls the point across nicely.
And I guess as a nice bonus, the people who watched it at the event asked if I considered a career in film editing so…
–Ishah Blasio